---
How to get organic SEO backlinks?
---
Despite heading up the marketing of a relatively small business, we hit well above our weight in how we get organic SEO backlinks. Our UK animation studio is a small bespoke outfit, currently approaching its 5th year in business.
I'm the founder of 'Stormy Studio' and whilst I'm an animator by trade with 15+ years. Over the past 5 years, my role has certainly changed, as the studio team has grown, I've been able to spend more time focusing on the business as a whole. With much more focus on our own business marketing strategy.
I've naturally found a love for all things marketing and now arrange my days to enable me to jump between managing projects, dealing with client enquires and dedicating around 40% of my time on marketing based activities.
In this time I've tried out different techniques to improve our search engine marketing effort. Whilst it takes considerable time, I believe finding organic, high-value SEO backlinks provide an incredible return on investment. Plus compliment other Search engine optimisation methods perfectly.
I've also worked on our studio's social media marketing, managed large and small PPC campaigns, video ad campaigns and more
If you're reading this, you're no doubt aware of what SEO backlinks are. However, just to be sure please carry reading just a little bit more...
---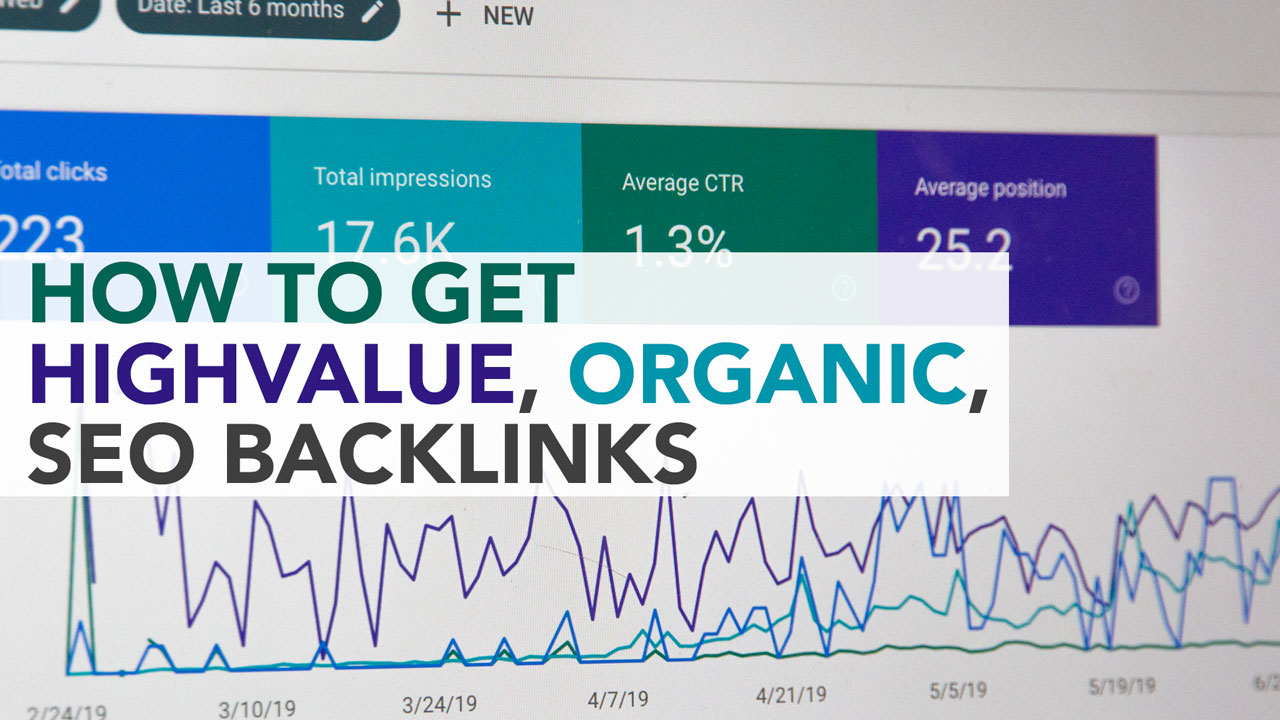 ---
---
"I'm all for taking our time and investing in content creation to build value and get organic SEO backlinks. "
---
---
---
PROS:
• High value/Trusted Site Backlinks
• Relevant to your industry
• Driven by good content
• Links should be free
• Boost your search engine position.
CONS:
• Time consuming to build up backlinks
• Limited opportunities
• Investment needed to create quality content
---
PROS:
• Quick to order
• Potential for some search rank gains.
CONS:
• Poor backlinks can damage your SEO 
• You pay for links. 
• Tricky to tell who is selling quality backlinks
• Requires understanding to check ROI
---
---
Backlinks are URL links from a website that points to your own website address.
Links from websites deemed high quality and trusted are interpreted by Google (and other search engines) to mean that your site is of value to their users. This can, in turn, increase your position on search engine results for pages for specific keywords.
Alternatively, poor quality backlinks, i.e. a large online directory, made purely to provide backlink opportunities could be deemed low quality. This can have a negative impact on your search engine result position and quickly see you drop from the top 100.
There are a few ways to accrue backlinks for your business website.
Create Useful Content:
You can create high-quality content on your website, that is of benefit to someone (normally your target audience). This content will do well on Google by itself. Plus other websites, forum posts etc will organically link to this content over time, giving you those much sought organic SEO backlinks.
Guest Posts:
You can write articles/content for an industry blog in exchange for a link to your website. Many professional blog sites will be open to guest authors who can provide interesting, valuable and unique content for them to post on their sites. They generally cannot be written as self-promoting adverts and links may only be allowed in the author description part of a page. Again though the result is a trusted organic SEO backlink.
*Sites should allow you to publish an article on your own business blog after it has been live on their site a number of days. Google will still deem them the original publisher. It's also best practice to include the canonical link in your own blog post, to point Google to the original article.
Purchase Backlinks:
Finally, there are lots of individuals and companies who specialise in selling backlinks. The prices vary wildly and most promise high-quality backlinks, from trusted sites with high MOZ scores. You'll find very cheap offerings online via sites like Fiveer and People Per Hour. Plus more premium offerings which can include minimal content creation. For example, rankz.io has some pricey but intriguing linking opportunities and FatJoe.com also offer a positive-sounding paid backlink service.
I've not tried either of those but I have heard better things compared to low-cost backlink opportunities.
However, personally I'm all for taking our time and investing in content creation to build value and get organic SEO backlinks.
---
---
Get in touch with Stormy Studio to discuss complimenting your marketing efforts with engaging bespoke business animation
---
---
---
---
Alternative Techniques To Get Organic SEO Backlinks
---
Below I share a variety of techniques we've taken in the past 5 months to increase our animation studios own organic SEO backlinks. I'll update this list with other marketing activities and include results as they come in.
These ideas are not quick fixes but more approaches for those playing the long game. Some are 1 off activities that require a couple of hours of your time. Others involve your input over a few weeks/months. Finally, some should become regular habits, meaning you're always increasing your number of SEO backlinks year on year.
These ideas are not industry-specific. They should also show that by approaching backlink generation a little differently. The right techniques improve your business marketing, PR and sales results across the board.
---
---
1. Industry Business Survey
Idea: Based on some Semrush competitor keyword research (*see no.3). We realised certain competitors were achieving a good amount of quality backlinks from others quoting their stats in marketing surveys.
Output: To create a collection of very real, useful stats to inform marketing decisions for others in 2020. Once the data is collated we'll be creating a few blog posts about different stats. Plus create a downloadable PDF (possibly with an email capture form… possibly not). It should be useful and help other companies considering if they should invest in animation/video production for their business. Finally, it should over time enable us to get organic SEO backlinks from interested parties linking to our pages and well-informed stats.
Goal: Improve our companies SEO, through many more backlinks quoting our accurate industry stats. Plus increase our standing as an authority on the subject.
Technique: We contacted a survey writer and data analyst to create and run an online survey about animation in business marketing in 2019. Plus signed up to an online survey service for a monthly fee.
The Good: We're creating a valuable asset with potential for increased lead generation and high volume and quality organic SEO backlink creation. It also gives us reason to politely reach out to previous clients, which is never a bad thing.
The Ugly: It takes considerable time and effort (with various incentives) to get people to take 3 minutes to complete a survey. Plus I ended up spending considerable time refining the questions, text and survey design myself. It'll also be a few months before we can start to see if it's been a worthwhile effort.
Result: … TBA
---
Idea: Try something your competitors may have skipped for a few years. Press releases can be easily overlooked as we all focus on the digital SEO aspects of backlink generation.
Output:
Create a well-written article that may be of interest to the local press (with potential for being picked up by wider press too). Find a great hook to make the article newsworthy and not simply a disguised company profile. We did this 5 years ago when first starting the business and that lead to one of our companies first paid business animation projects.
Goal:
Raise awareness of our business and its success as we approach our 5th year. Benefit from 1 or 2 high-quality backlinks for SEO purposes. Generate leads.
Technique:
I wrote various bits of copy and quotes myself. Then brought on a very good and well-priced press release writer to refine it. Then it's a case of having some professional photos taken to compliment the story and start emailing out the press release (plus check out Press Release, Facebook/Twitter pages).
The Good:
It's a low-cost effort with potential for some real organic SEO backlink rewards.
The Ugly:
No guarantee of successfully being picked up by the local press.
Result: … TBA
---
---
Task: Start using SEO service Semrush and better inform our own SEO practices.
Output: Amend old/ create new blog articles, to target the most beneficial keywords. Complete the Semrush site audit and improve our sites overall setup.
Goal: Improve our website pages and articles to further increase our organic results in Google. Increasing site traffic and leads. Better website leading to improve SEO backlink generation.
Technique: Signed up to Semrush trial… joined one of their webinars and watched a few youtube videos. Then dived in and started learning whilst using it. Used the backlink tool to see what our competitors are up to and also fix any poor backlinks pointing to our own site.
The Good: Very intuitive, tonnes of features, I've learnt a lot and we've seen results almost immediately. With improvements being made as a result every day. I feel so much more informed and now have a real upward direction to our marketing efforts.
The Bad: Monthly cost is a little high for a small company like ours. Now the easier tasks are completed and initial gains made, 2 months on it's taking more effort to keep up with the momentum. There are lots of tools and techniques to learn.
Result: (after 2 months) • +12% in  keyword rankings, +15% in page sessions, +40% in avg. session duration, -10% bounce rate.
---
4. HARO / Press Outreach for SEO Backlinks
Task: Press outreach by responding to reporter requests online.
Output: Different to a press release, we've been writing short paragraphs answering reporter requests for anecdotes as they create blog/press articles on particular subjects. It's all done via email (or potentially phone for those seeking interviews)
Goal: Get published in articles online by well respected new/blog sites. Slowly building up backlinks and improving SEO.
Technique: Signed up to Haro, and read the 3 daily emails when we can. Then respond via email to requests that look of interest. Also, search Twitter for #journorequest (which is better suited to UK businesses).
The Good: Doesn't take a huge amount of time. Potential of some very high-quality backlinks, increasing brand awareness and reaching potential clients directly.
The Bad: No guarantees your efforts will pay off at all. You will need to respond to lots to see some uptake.
Result: After around 6 weeks. We've been featured in two respected blogs providing valuable SEO backlinks. Plus tomorrow I have an interview with The Times newspaper for an article on small businesses.
---
---
5. Employing a Marketing Assistant
Task: Employing a marketing assistant in 2019.
Output:
Err… a new person in the office 4 days a week. So we hope to further push marketing activities. Freeing myself up to concentrate on our animation production services or other marketing opportunities.
Goal:
Continue current marketing drive. Increase companies lead generation. Allow us to further grow.
Technique:
We an an ad and employed the best candidate.
The Good:
Real potential to allow us continued animation business grow. Through increased content creation, it should lead to continued SEO improvements, further organic SEO backlink generation… …plus an altogether busier and cooler studio. We can manage the employees effectiveness using the same tools we use to manage our SEO.
The Bad: Extra business cost, it will take a bit of time to train them up on our own service offerings to inform the marketing effort.
Result: …TBA
---
6. Search for the missing link
Task: Search for blog articles with backlinks to expired (404) pages.
Output:
Write emails to website managers informing them that their blogs have some broken links. Provide them with a short piece of copy, image (if needed) and link to our site. As you're helping them there's as higher probability that they'l use your information provided.
Goal:
Increase backlinks via old, established blog articles relevant to your industry.
Technique:
Spend time searching high ranking results for key target keywords. Then either check links manually, or use a chrome extension like 'Check My Links' to highlight what links have errors. Then email the website manager / blog author, with bit of short and relevant copy.
The Good:
High chance of creating some very good value backlinks. Plus you get to be seen as being helpful at the same time.
The Bad:
Time consuming activity to hunt out these potential link opportunities.
Result: …TBA
---
We hope the above backlink generation ideas proove valuable.
The main take aways should be think about what content is going to provide real value for your target audience. This will be proove populalr on google and generate backlinks without the need for time consuming outreach.
If you'd like some inspiration for your next business video, you can find plenty of ideas here where we showcase just a handful of the corporate video productions our studio has work on.
---
---
Please check out our UK Animation Studios animation work to help bring your marketing message to lifethrough the use of bespoke motion graphics, character animation, visual FX and film.
---
---