Stormy Studio worked with media agency Wooshii to develop this bespoke 2D animation to bring a real covid-19 patients interview and journey to life in a compelling way. The project was produced for the Thermo Fisher Scientific.

The honest, reflective and emotive narrative required a blaance of engaging visuals and close, quiet movement to ensure it did not over shadow the unique interview audio and story.

Due to the produciton timeframe we restricted the amount of character animation throughut to relatively subtle movements. Adding extra value through strong scene design, textures, lighting and slight camera moves.
An honour to be able to work on such a unique and emotive animated character story
We worked with our clients to cut down the interview audio to the circa 2 minute length to ensure it was at a length suitable to the intended audience and destination.
Relatable stylised backdrops
Throughout the video bespoke backgrounds were illustrated. With more details added as we moved from early animated, draft animation to the final more polished scenes.

Each scenes colours were fine tuned to ensure the focus of the viewer was still drawn to the character animation and core narrative.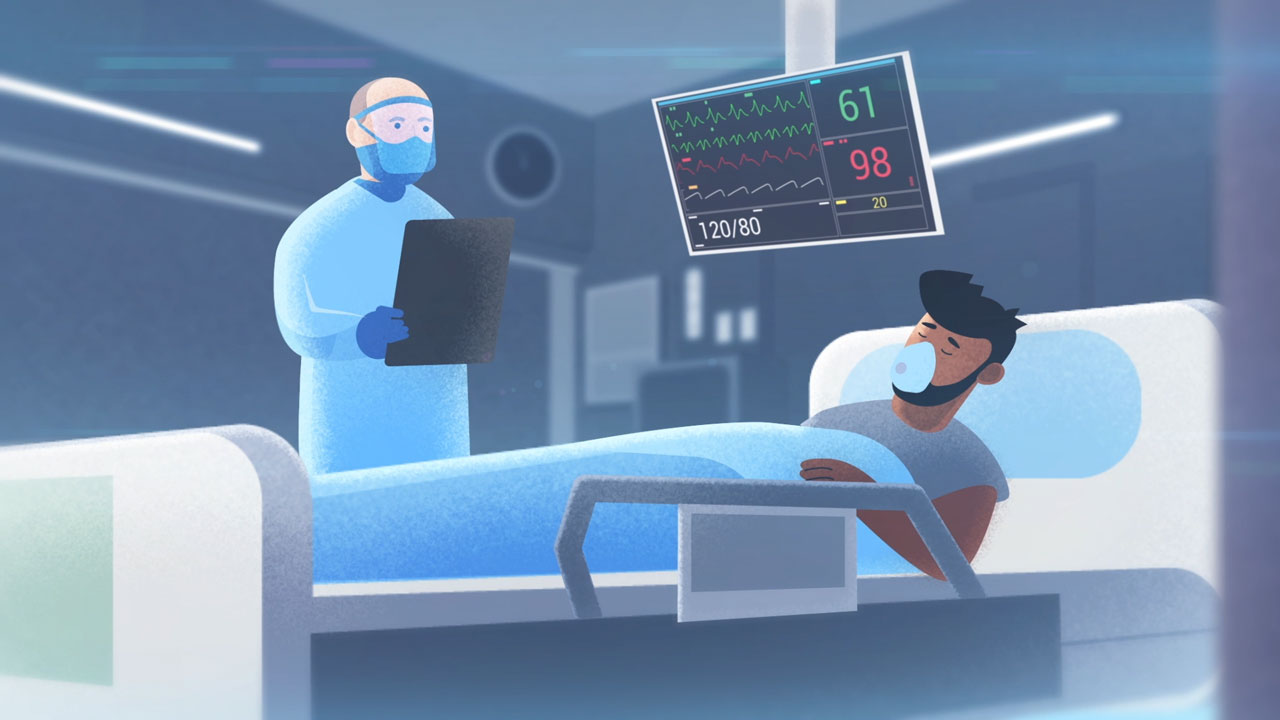 "The main animated character and stylised photos of characters. Needed to strike a chord between realism and illustration. Whilst fitting within the production timeframe."
As the target audience for the animated video would have a good understanding of the virus and impact it could have on the lungs.

When Gary (the interviewee) mentions the impact on his body. We visually show a stylised virus before transitioning out to show how that can affect the lungs. We thn quickly pull back to turn the still into an Xray before having the hands pull away to reveal the next scene in the narrative.
Extra touches of character animation
As we neared the end of production, we were able to add a few extra touches of polish to the chracter animation and overall visuals.

i.e. On the scene where Gary swipes through his phone in a hospital corridor. Along with the obvious character animation and illustration put in place. We added more texture to the side of the hands, plus a shadow and reflection is cast onto the phones screen to further increase the perception of depth and realism.