Stormy Studio were approached by Moody's Investor's Service to produce a number of videos for the company. The first of these financial sector animation productions details Moody's comprehensive credit ratings system.
The video script and visuals needed to maintain a corporate brand image, whilst delivering complex information in a clear, concise and engaging manner.
Using a minimalist animation style to create clean visuals, the financial sector animation presents the Moody's credit ratings system in a format that is both comprehensive and accessible, while showcasing the value of Moody's in-depth credit analysis and research expertise within the wider context of the global market.
Financial sector animation script to screen
Working closely with those at Moody's we refined the overall script. A number of design approaches were taken as we collectively explored more character based narratives as well as a purely corporate motion graphic route.
Two separate storyboards were illustrated allowing creative discussion. We also created short mockup scenes in 2 styles for the team at Moody's to review.
The final animation style stayed true to the distinct professional reputation of the financial sector brand. Using crisp lines, fluid animation and very little text to depict and compliment the key messages delivered by the voiceover.
Throughout the financial sector aniamtion we included a grey scale digital wireframe mesh that warped in and out of shape, helping to depict how scattered data is brought together in a cohesive manner.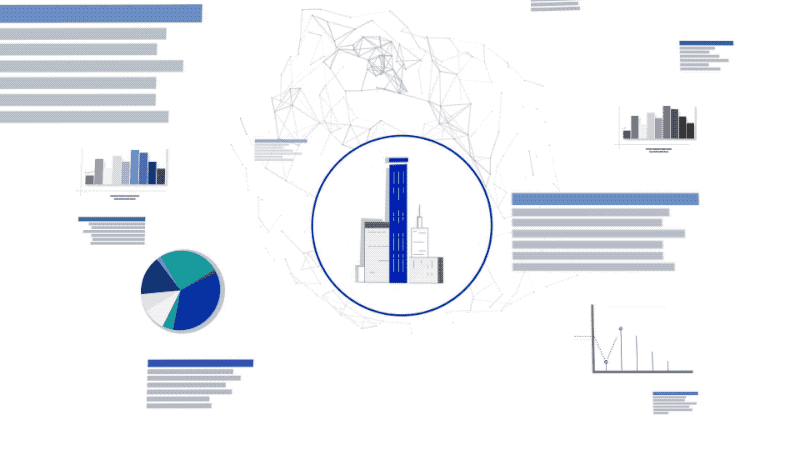 Through the use of bold animated iconography we were able to distill often complex ideas in a minimalist way that increased overall clarity of the message.
Stormy Studio have gone on to produce a number of financial sector animations for Moody's. If you'd like to see a wider variety of banking, finance and corporate animation please visit our page here.