Stormy Studio were commissioned by UK Power Networks to produce an animated health and safety series of seven videos as part of their 'Be Bright Stay Safe' electricity awareness campaign. The campaign was aimed to raise awareness about the dangers posed by the electricity network for tradesman and people working in industries such as farming and haulage, as well as the general public.
Bespoke character and environment design
The theme of each animated health and safety video was to correspond to the content of one of the UK Power Networks safety leaflets the campaign, covering the most pertinent aspects of health and safety from one of the these sectors.
Each individual production went through a thorough scripting and storyboarding process, ensuring approval form all those with creative and message sign off. We use a cloud based storyboarding platform to quickly arrange and amend our digital illustrated frames. This allows for quick refinements to ensure the final animated health and safety video is highly effective.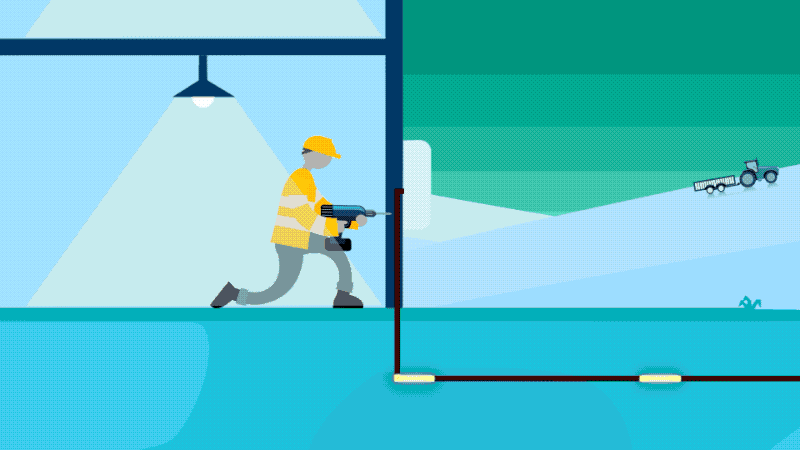 The animation used stylised character and asset design in order to make the serious subject matter watchable and engaging whilst still conveying all of the important health and safety information.
Motion graphic text and icons were used to convey additional information and to make key content memorable. Each video had its own colour palette to make it distinct from the rest, while the style of the characters and the design work was maintained throughout the series to provide consistency.
Over the years we've prodcued a good number of animated health and safety videos in both 2D and 3D. If your business would like to produce an animated health and safety series please contact Stormy Studio to discuss your brief.
---
Series of Animated Health and Safety Videos
---
---
Overhead Powerlines
Animated Health and Safety Video
---
---
Recreation Electricity-
Animated Health and Safety Video
---
---
Farming Powerlines –
Animated Health and Safety Video
---
---
Trade Bodies Electricity Cables –
Animated Health and Safety Video
---
---
Haulage – Powerlines –
Animated Health and Safety Video
---
---
Storm Damaged Powerlines – Public Safety –
Animated Health and Safety Video
---
---
Excavation Powerlines – Public Safety –
Animated Health and Safety Video
---