Best

Business Animation

Studios in the World
Jon Draper - CREATIVE DIRECTOR
---
Below we share some of the leading animation studios in the UK and worldwide. Companies that deliver outstanding content for their chosen area of industry. Whether it's business animation explainers, marketing videos, TV adverts, music videos, special FX, children's TV series, animated shorts and features.
Read on to find out who produces the best business animation in the UK and around the globe for exciting startups, global organisations and big brands.
---
Top Animation Studios in the UK
Who is producing the best business animation in the UK?
Let's look at the top animation studios.
Delivering premium business marketing ads and movie visuals for the masses. After decades creating state of the art film production at sites like Pinewood, Ealing and Shepperton Studios. The UK has cemented its place in film production by building a reputation as a hub for quality blockbuster CGI, character animation and visual FX work.
Most of Hollywood's blockbusters have benefitted from spellbinding animation work from large London studios. MPC and Framestore create 3D visuals for global hits such as Harry Potter, Avengers and Game of Thrones.
There are also a lot of other highly established studios delivering exceptional productions for business marketing. Crafting compelling narratives and beautiful visuals to convey company messages for TV adverts and online branded video content.
To celebrate the amazing work being carried out by some of the amazing animation studios in the UK (and around the globe), we've compiled the below list of animation studios pushing the bar creatively and competitively for their clients.
"The UK has built a reputation as a hub for quality blockbuster CGI, character animation and visual FX work. "
---
What makes for a great business animation studio?
---
Creative Ideas
To stand out from the crowd. A top UK animation studio should have a talented team of creatives. They present an understanding of narrative, design, marketing and animation production. Plus can work in business strategy, collaborating with their client to ensure business goals are met, along with the creative approach. An experienced project director will work across all areas of a project and tie the vision together.
Consistent delivery of quality
Lots of small animation studios or students may deliver one great piece of work. However, to be regarded as a leading studio, you'll need to have shown a consistent quality of delivery time and time again. It's this repeated level of excellence that allows a studio to gain its reputation for quality work.
Pure, simple talent
The very best animation studios in the UK, unsurprisingly also have the countries leading producers, artists, animators and editors at their disposal. Through a mix of bigger budgets, exciting projects and long-lasting reputation, they can attract the best talent.
Fearless use of any medium
The benefit of a large and talented workforce is the ability to develop a unique look for a video. Combining new technology with old. Making it possible for the animated video to be visually original and noticed by the broader public. The very best animation studios UK has to offer are willing to take chances, investing in R&D on in-house short films. Setting themselves apart from competitors.
Professionalism:
While it's generally a given that you'll find a good few grungy hipsters at most any animation studio (ours too). There's also a refined and structured production process that top video production companies have. Ensuring a project will move forward smoothly, with the right level of review and flexibility to push the creative envelope. 
Delivering for their clients
All of the above are things that help drive high-quality productions with real original creativity. The final thing that makes a UK animation studio stand above the rest is delivering a high return on investment (ROI). Quality animation productions are far from cheap, often costing companies many hundreds of thousands or millions to provide their exceptional video production.
Providing a return in terms of sales and increasing brand awareness for the end client is key to securing further exciting animation projects. 
---
---
1.

Stormy Studio - Business Animation Experts
Website: https://stormystudio.com
Who:
Yes, we might be somewhat biased but after 10 years of producing high-quality business animation for global brands we think we might be alright.
A stone's throw from the sea, based in the South West of England. Plymouth-based 'Stormy Studio' is one of the UK's leading business animation companies.
Fielding a team of experienced writers, illustrators, designers and animators with 20+ years of experience, the company is forever pushing the boundaries of creativity to constantly deliver exceptional work for exciting businesses, brands and enterprises around the world. All whilst working to realistic client business budgets. Check out our 40 ideas for business animation here.
Output:
Digital 2D and 3D Animation for SME businesses and global organisations. Delivering effective animated videos for social media, the web and events.
Speciality:
2D & 3D Business Animation. Original high-quality animated explainers between 30 seconds and 5 minutes in length.
Client Type:
SME and larger organisations. Working for business, tech, marketing, finance, energy, healthcare, pharma, and entertainment industries.

---
Check out our Animation Studios UK business productions.

Where we mix bespoke motion graphics, character animation, visual FX and film.

All with the aim of delivering effective business messages with style.
---
---
---
---
2.

Passion Animation Studios - Animated TV Ad Experts
Website: http://www.passion-pictures.com/uk/animation-studios/
Who:
Oscar® and BAFTA-winning studio based in London.  They employ in house and international crews of designers. The UK studio has a wide variety of directors under its banner and its ability to showcase astounding animated work in hand-drawn, digital and stop motion.
Output:
Beautiful TV adverts & series of the highest order. From Compare the Meerkat to leading supermarket Christmas ads etc.
Speciality:
Combining great narrative with exceptional visuals using any medium. Digital 2D, 3D, hand-drawn, stop motion or all of the above. They regularly collaborate with other established animation studios to deliver larger projects i.e. animated TV series such as 101 Dalmation Street.
Client Type: National and global brands with deep pockets. Looking to bring something new whilst enhancing their brand image.
---
"Passion Animation Studios are producers of many of the best TV adverts in the UK and overseas."
---
---
---
---
---
---
3.

Studio Aka - Legendary children TV show & Ad producers
Website: https://studioaka.co.uk/
Who:
A Bafta-winning animation studio based in London, that consistently bring business messages to life through perfect character animation and design. They have a reputation for creating idiosyncratic & innovative work, expressed across an eclectic range of projects.
Output:
Creators of the beautiful 'Lost and Found', along with superb children's TV shows and business TV ads (i.e. TSB bank ads) and campaigns.
Speciality:
Exceptional character design and animation of the highest order is at the heart of their work. They're able to consistently find a line between almost art house and effective commercial design.
Client Type:
Companies with projects that need special care, with budgets available to create animated videos and characters that stay with the viewer.
---
"Passion Animation Studios are producers of many of the best TV adverts in the UK and overseas."
---
---
---
---
---
---
4.

Blue Zoo - Highly acclaimed BAFTA winning childrens Animation Studio
Website: https://www.blue-zoo.co.uk/
Who:
Another fantastic Bafta award-winning studio is also based in London. The mix of beautiful 2D and 3D animation is consistently full of great compelling visuals that highly the creative stories. They have built a reputation over the past 20+ years and have brought to life many well know (and loved) IPs. Including Paddington Bear and Playmobile.
Output:
Since its very first project creating 'Blue Cow', for the launch of CBeebies in the UK. Blue Zoo has gone on to become one of the UK's leading animation studios, producing some of the most well-loved kids shows on TV, award-winning commercials, and animated short films renowned for unique visual storytelling and innovation.
Speciality:
Producing stunning visuals that combine great storytelling targeting a young audience.
Client Type:
TV studios & Broadcast companies.
---
Blue Zoo works tirelessly to push the UK animation industry forward, having established AnimationUK in 2008
---
---
---
---
---
---
5.

Blinkink - Experts in original music video production (and more)
Website: https://blinkink.co.uk/
Who:
BlinkInk is a world-class, London based animation studio. They're focused on the creation of short-length video content for the advertising, music, gaming, fashion and broadcast industries.
Output:
They blend innovative new technologies with great cinematic craft. They're focused on the fundamentals of storytelling. Bringing music and story narratives to life through fantastic character design, motion and emotion. Their modern animation work is complemented by their use of live-action film-making and traditional hand-crafted animation.
Speciality:
Raising the bar with unique visuals that stand out in the world.
Client Type:
Advertising, art, music, fashion and entertainment clients.
---
live-action film-making to hand-crafted traditional animation, to modern cgi, and everything in between
---
---
---
---
---
---
6.

Cub Studio - Bright, fun and engaging animations combining humour and style
Website: https://www.cubstudio.com
Who:
Cub Studio are a highly creative UK animation studio based in Brighton, in the south of England. They consistently produce very high-quality, fun and engaging animation for a broad spectrum of industries.
Output:
Their portfolio of hilarious and professional brand animation captivates audiences. Their studio portfolio features a selection of animations created over the years, including branded content, music videos and excellent passion projects which we recommend checking out. The content on their studio Instagram account is also fantastic, giving glimpses of their production processes and latest work.
Speciality:
Bright and fun animations that mix humour and beautifully crafted motion and scene design using both 2D and 3D animation.
Client Type:
Global brands, sports teams, social networks, banks, start-ups, and everyone in between.
---
Creating characterful animations for global brands, sports teams, social networks, banks, start-ups, and everyone in between.
---
---
---
---
---
---
7.

Aardman - Creative Stopmotion Pioneers & 3D Animation Experts. Not just feature films & shorts but brand commercials too.
Website: https://aardman.com

Who:
Aardman Animations, based in Bristol in the UK is known worldwide for its success with animated shorts starring characters Wallace & Gromit, plus feature films such as Chicken Run, Early Man & the excellent Arthur Christmas. However, they also work on top-end brand commercials using stop-motion, 3D CGI and 2D animation.
Speciality & Client Type:
Drawing on their expertise in stop frame, 2D and CGI animation, they bring a special mix of creativity to branded content across a wide range of sectors, from charity and healthcare to retail brands and the entertainment industry.
---
Pioneers of stop-motion shorts and feature films. To christmas movie hits and award-winning brand commercials
---
---
---
---
---
---
8.

Moth Studio -  Stylish, bright and beautiful 2D and 3D animation
Website: https://moth.studio

Who:
Moth is an award-winning animation studio based in London.
They work in both 2D and 3D animation and strive to create work that has a vivid and distinct voice whether it's for commercials, short films, music videos or branded content.
Speciality & Client Type:
Bright bold and stylish animation for brands.
---
Vivid and distinct voice whether it's for commercials, short films, music videos or branded content.
---
---
---
---
---
---
---
---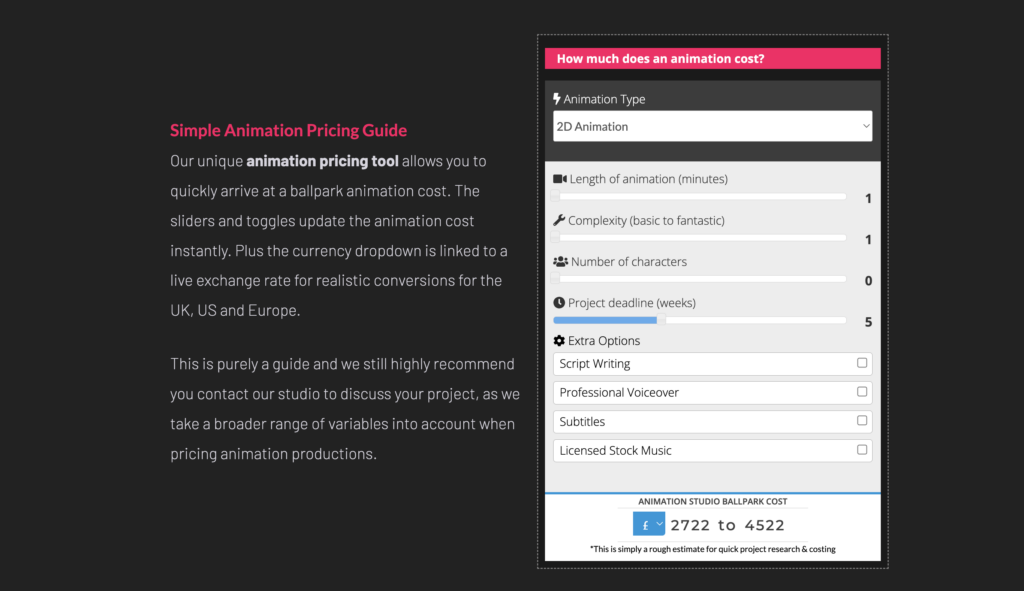 Animation Pricing
A quick guide to animation pricing
How much does animation cost?
---
Production Packages
Fixed price animation packages
---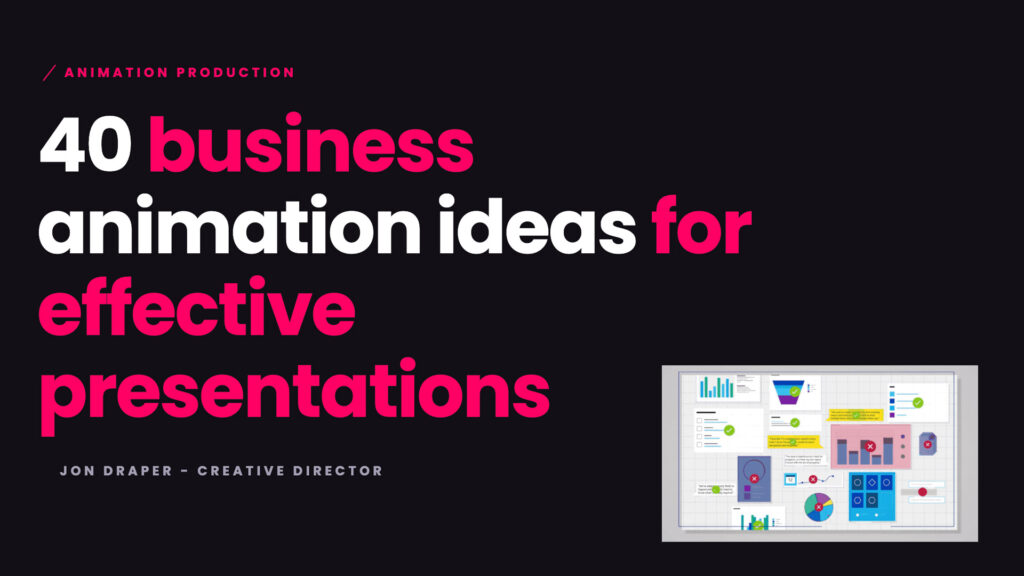 40+ Animation Ideas
Business animation examples
Business Animation Examples
---
---
Regardless of which professional animation studio you decide to work with for your project. You'll often need a professional voiceover to bring your scripts to life.
Whilst there are lots of great voiceover artists out there, many of whom Stormy Studio work with throughout the year. Our own Creative Director, Jon Draper is also a professional voiceover artist providing a great non-regional English voice for audio projects for our own studio and many others across Europe and the US.
Check out his British voiceover artist page here to find out more, listen to samples and get in touch.
---
We hope the above list of leading UK animation studios has been of interest.
As we stumble across other pioneering animation studios in the UK both big and small, we'll be sure to come back and add those here.
In the mean time, if you'd like some inspiration for your next business video, you can find plenty of ideas here where we showcase just a handful of the corporate video productions our studio has work on. We're always open to chat about a project and if your open to new ideas  we'd love to push the creative envelope that little bit further.
---