40

business

animation ideas

for effective presentations
Jon Draper - CREATIVE DIRECTOR
---
Lots of ideas to help plan your own corporate animated video projects. Plus a wide variety of animated business video examples to inspire you.
---
Last Update: 12th March 2023
Business Animation Tips • Written by Jon Draper - Lead Animator / Creative Director
---
Business Animation Benefits
---
When you want to create the best business presentations, you want something that is able to stand out from the crowd. To convey an important message, you want your audience to be giving you their undivided attention. The best way to achieve this is by making your business presentations as entertaining and eye-catching as possible, without diluting the message or reducing the professional nature of your work. Corporate animation is a fantastic way to engage your audience regardless of the subject matter or complexity. While you might be worried that people are going to get bogged down in the details, corporate animation can really help prevent that from happening.
Make Difficult Subjects Easy To Understand
When you are creating business presentations, you may have to use lots of facts and figures. You'll often want to present these on screen while discussing what the data mean. As a result, you'll often risk losing your audience's attention as they drift off into a sea of numbers and charts and so miss the core information you're trying to share. With corporate animation, you can bring those facts and data points to life with a little motion graphic magic. Your audience is more engaged and you're able to turn that ocean of numbers and data points into an interesting and concise set of visuals. By adding corporate animation to your business presentations, website or events you can make your messaging stand out and see improved business activity in a broad range of areas. Not least sales & marketing, brand awareness, employee and customer training, safety and more.
Bring Examples To Life
Sometimes your chosen subject may be so complicated that a little corporate animation may not be enough to help your audience process all the information you are throwing at them. You may need to create an example so then they can see the data or idea you are showing in action. This is often easier said than done, as a simple typed-up example on a screen may not help improve the chances of your audience getting to grips with the subject.
Using corporate animation is much more effective. You can animate an example or an explanation so your audience is able to get to grips with the subject matter easily. Nothing can really grab an audience's attention quite like animation, so use it for your example or the explainer part of a presentation and your audience will be able to keep up with you, every step of the way.
---
Top 10 Business Animation Ideas
---
Here's a list of ways you can utilise animation for business. High-quality examples are included further down the page.
Create engaging videos of 1-3 minutes in length that can explain a product, service, or concept using 2D design, motion graphics and animation. These are ideal for sharing online, embedding in your business web pages or used in presentations and at events. •
Example 1
,
Example 2
,
Example 3
.
Visualise a product with stylised or photoreal 3D visuals. Add exploded views of products to show how they function. Create 3D environments. Add motion graphics, iconography and typography to highlight key details.
Example 1
.
Creating a series of short animated videos can be a key part of a wider marketing strategy. Engaging unique visuals and creative ideas can grab the viewer's attention. Depict one key benefit of a product or service and drive traffic to a URL for further information.
By depicting relatable characters, you can highlight the problems being solved and the benefits of a service. Using characters and environments allows you to build a strong narrative and bring situations to life. When done well this can engage, entertain and educate your audience.
• Event and Conference Openers
Build excitement and give a premium professional feel to a corporate event. Utilising bespoke 2D and 3D design, animation, visual FX and the perfect music bed you can reinforce the event brand, and subjects to be covered, welcome the audience and introduce speakers with style.
Example
.
Adding short animations into presentations can quickly elevate a pitch. Snapping your audience awake with something new, something different and of high calibre. Presentation animations can help you deliver information, highlight benefits and explain complex or intangible ideas with professionalism.
Example.
Get new employees off to a great start with a professional onboarding animation. Explain best practices in the workplace, introduce software and systems, identify key locations, plus deliver key health and safety messages. Saving time for onboarding and highlighting a modern business approach.
Top and tail any filmed media content or presentations with an animated ident to create a consistent set of media. Typically a short motion graphic animation of the company logo with a tagline and short bespoke sound design. You may also add a call to action, i.e. 'Visit a URL to find out more...'
Animation is perfectly suited for safety messaging, whether they're one-off messages of 20 to 30 seconds or full 5+ minute long animations. They're effective in delivering key HSE business messages to employees or customers in concise, clear and often engaging ways.
Designing bespoke animated clips for your business website is a great way to raise the level of finish to a webpage and stand out from competitors. Short, often looping animations can help explain products or add a little wow factor to the overall site design.
---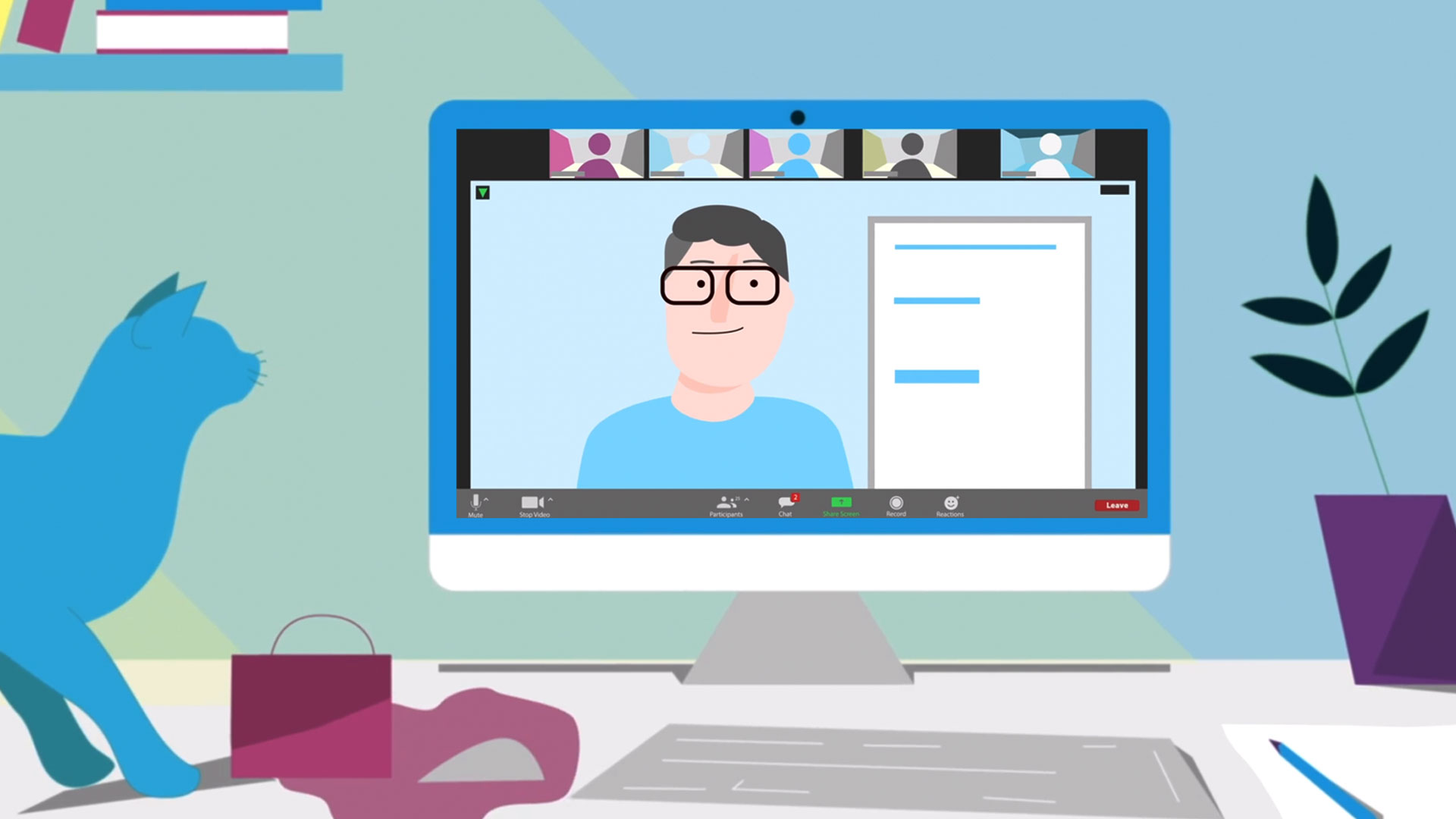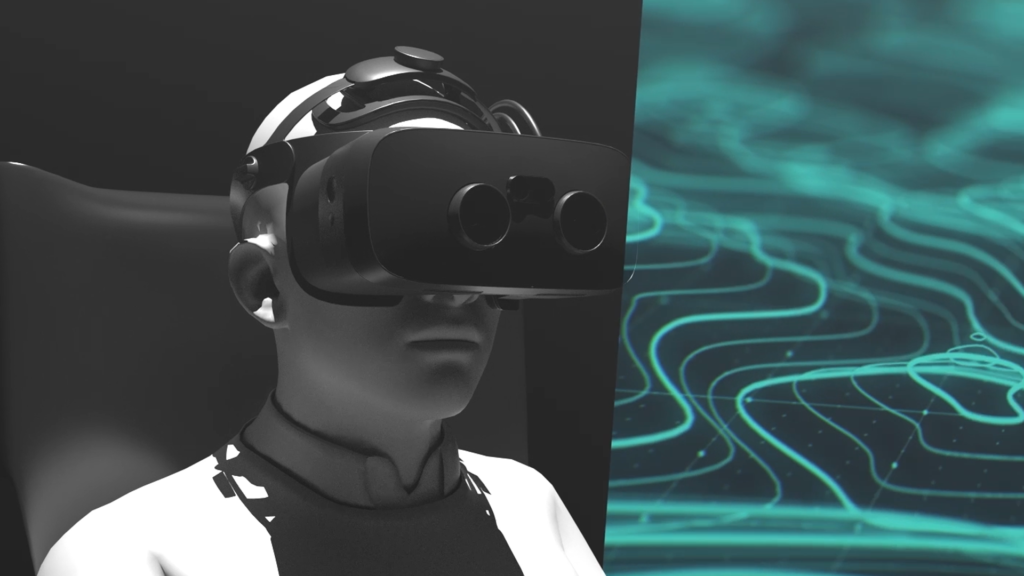 +30 Extra Business Animation Ideas
---
2D, 3D or TV Advertisements
Online video Ads for Youtube
Social Media Ads (i.e. Tiktok, Instagram, Fb, Twitter)
Animated Social media posts (to build following for brand)
Website animated banner ads
Stop-motion animation, can give a crafty, homely feel to a brand.
Animated Gifs to embed in emails/signatures
HUD animation, for business VR experiences
Youtube Channel Intro Idents
Arty animated stories, sponsored by a brand.
UI animation for business apps and SAAS.
Animated award event category videos/titles
Looping event stand displays visuals
Business Info on looping screens / Waiting Rooms.
Animated visuals for Blu-ray/DVD menus
Projection mapping (on walls buildings)
Animated transitions & title sequences for live video presentations
Animated backgrounds for green screen videos
VFX (Green Screen, motion tracking) working with filmed footage
Interactive 3D products, (often embedded into web pages)
In-person sales tool animated videos (for sales staff)
Animated Business CV for added engagement
In-store advert displays. (i.e. short ads in supermarket displays)
Digital billboards. (i.e. Times Square, Piccadilly Circus animated ads)
VR experiences (3D Animation added via Unreal Engine or Unity)
Community outreach. Animated content shown at local events
Business proposal - Highlighting benefits of business proposal
Animated Brand Design Doc - Using premium animation
Animated event/party invite (i.e. conference, halloween event)
Animated FAQs
Animated 'meet the team' video, with staff character animation
Product animations (to display on actual product devices)
Animated memes, to spread company brand/message
---
---
---
---
Business Animation Ideas & Examples
Get inspired by these great corporate animations
---
1 • 2D Animation For Dentsu
---
2D Business Animation with Characters
---
---
This 2D animated corporate video was produced for Dentsu by the UK animation studio, Stormy Studio.
Dentsu is the largest advertising agency in Japan and 5th largest in the world.
Mixing bold colours, with a relatable character and modern business animation and motion graphics works well to engage the audience. The idea of data and technology is implied easily through the use of motion graphics without the need to hammer it home with lengthy voiceovers or too much onscreen text.
The well-written script succinctly explains the business messaging whilst the visuals reinforce it and highlight the business with consistent use of the brand colours, ensuring it will sit well alongside other branded materials and on their website.
---
---
---
---
---
KEY TAKEAWAYS:
• Original, quirky but relatable character design 
• Concise script to keep the short video length
• Motion graphics to reflect the techy nature of the subject
• Fluid smooth motion and transitions throughout
• Added texture and grain for a subtle organic / crafty aesthetic
2 • 3D Low Poly Animation For WPD
---
3D Business Animation (Low Poly 3D)
---
---
3D animation is of course a well-known option for animated videos. Though it can easily look 'cheesy', over the top or low quality when a photo realistic approach is attempted but missed.
We love the style used in this 3D renewable energy business animation. The low poly 3D design keeps the visuals crisp and clear and allows for a strong unique design approach to be maintained throughout the video. Presenting the information and ideas clearly with a big spoonful of style.
Find out more about the animation studio behind the project here.
---
---
---
---
---
KEY TAKEAWAYS:
• Unique Low poly 3D design approach
• Mix of 2D motion graphics overlayed on 3D visuals
• Strict colour palette to maintain clean visuals
• Complex environment that can be repurposed for the multiple video series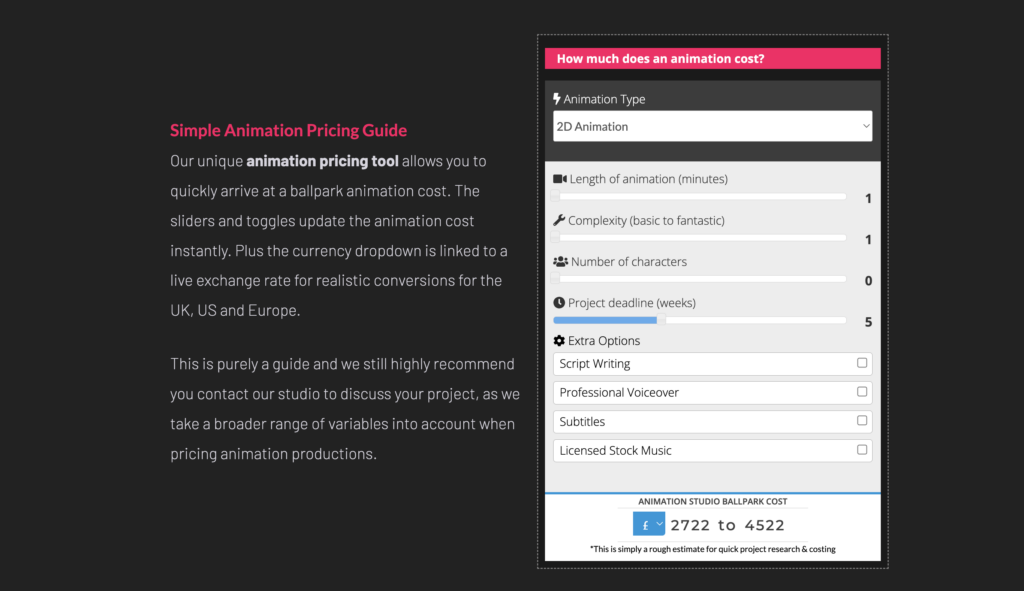 Animation Pricing
A quick guide to animation pricing
How much does animation cost?
---
Full Production Packages
Fixed price animation packages
---
Commisioning Animation
Simple tips to commission animatiion
---
3 • Stylised 2D Animation For Bristol Energy
---
---
---
This video works really well to grab the viewer's attention as it delivers the key business messages on the subject of smart meters. It's actually part of a series of 3 videos produced by Stormy Studio.
The modern angular 2D design work and perfect use of the brand colour palette help tie the visuals together throughout.
The clever use of some pseudo-3D and depth, as we move into and pan across and up the house. Plus unique frame-by-frame animated characters add some extra detail and highlight the quality of the work produced, which indirectly reflects and subconsciously boosts the business brand image for the consumer.
---
---
---
---
---
KEY TAKEAWAYS:
• Great stylised 2D environment design
• Bespoke frame-by-frame character animation
• Unique pseudo 3D depth for added interest
• Strict colour palette to maintain clean visuals
4 • Business Conference/Event Animation For Janssen
---
Motion Graphic Event Opener Business Animation
---
---
This corporate animated video, produced by the creative team at Stormy Studio takes a unique approach to welcome audiences of scientific experts in the pharmaceutical industry to Janssens industry events and conferences.
The video mixes original illustrations, smooth camera moves and intricate transitions. With visuals that blend both 2D and 3D motion graphics and typography to explain past scientific breakthroughs and build excitement for the future. All are complimented by a clear and relatable style of voiceover and an uplifting orchestral music track.
---
---
---
---
---
KEY TAKEAWAYS:
• Bespoke original design and illustration
• Constant movement and visual transitions
• Rich colour palette
• Relatable voiceover delivery & building music
5 • Corporate Animation - Level up your presentations
---
2D Corporate Animation - Deliver complex ideas with clarity
---
---
Complex ideas, such as Moodys SPO offering can be explained with both clarity and style through the use of good design, a well-structured script and modern motion design.
As a trusted key supplier for Moody's Credit Rating Agency, our UK studio Stormy Studio has produced a wide range of corporate animated videos for the well-regarded financial organisation.
---
---
---
---
---
KEY TAKEAWAYS:
• Complex ideas explained with good design, script writing and motion design
• Stylised shots of software UI to maintain a clean aesthetic
• High quality and unfussy design conveys the professional and trusted brand reputation
• Minimal on-screen text to maintain crisp clear visuals
6 • Narrative Animation - Bring stories to life
---
2D Covid-19 Patient Story Animation
---
---
You can bring an employee or customer testimonial to life through the use of bespoke illustrations. The cinematic feel in this video lends gravitas to the heartbreaking audio. Whilst the story highlights the benefits and great work achieved by Thermo Fisher. Our studio brought the array of beautiful illustrations to life to reinforce the narrative shared in the recorded interview. The images were then brought to life with small bits of scene motion, character animation and lighting effects.
---
---
---
---
---
KEY TAKEAWAYS:
• Bring testimonials to life with rich visuals.
• Authentic audio can add heart to the video.
• Bespoke high-quality illustration can ensure the video feels original and cinematic.
• Little to no text ensures the viewer is focused on the visuals and the story.
7 • 3D Technical Explainer Animation
---
3D Animation to explain a product or service
---
---
You can bring technology products to life for your audience through both stylised and realistic photoreal 3D. Exploded views of a product complimented with 2D motion graphic labels and iconography can help explain the product to your audience.
In this example, a mix of low poly 3D for the environment compliments the far more realistic texturing of the main IT server racking products and larger container offerings.
The final 3D technical explainer video is the perfect tool to allow the business to explain its services and also act as a sales tool. It can then be used in one on one meetings, embedded on the company website. Plus it could be cut up into shorter sequences and used for social media marketing.
---
---
---
---
---
KEY TAKEAWAYS:
• Bring testimonials to life with rich visuals.
• Authentic audio can add heart to the video.
• Bespoke high-quality illustration can ensure the video feels original and cinematic.
• Little to no text ensures the viewer is focused on the visuals and the story.
8 • 2D Health & Safety Animation
---
2D HSE Animation to encourage safe working
---
---
A popular use case for animation in business videos is the creation of original health and safety animation. Animation has the clear benefit of portraying dangerous scenarios and visualising the potential dangers of actions and situations. Animation also has the real plus of allowing you to make the messaging succinct and as entertaining as possible and allowing you to keep your audiences attention and ultimately improve safety outcomes (*which can lead to increased business productivity, well-being and reduced staff turnover. Which eventually can create a better place to work and increase profitability for the business.
Check out more animated health and safety videos by Stormy Studio here.
---
---
---
---
---
KEY TAKEAWAYS:
• Animation allows you to depict dangerous scenarios
• Bring dry subjects to life with humour or just good-quality production
• A voiceover, mixed with subtitles and clear design ensures messages are understood.
• Check out more safety animation examples here.
9 • Branded film with animated elements
---
Brand film with adding animation
---
---
This unique business video project allowed our studio to bring our one creative idea for a heartwarming story to life. We were indirectly highlighting the passion that the clients' UK business (Weatherhead Group) has for designing and fitting out exemplary shops for leading brands in the UK. The hand-drawn animated elements increased the overall charm of the video and helped add that bit of magic to elevate the visuals even further.
This was a particularly unique project with lots of creative freedom. Our UK studio team would love to have more creative and mixed-media project opportunities like this in the future. Plus it was great to jump behind the camera and get creative with post-production but in the studio.
---
---
---
---
---
KEY TAKEAWAYS:
• Animated business videos don't have to be 100% animation
• Cinematic filmed narrative visuals
• Focus on the story and subtle inclusion of the brand
• Add extra charm and magic with added hand-drawn animation
10 • 3D Animated Explainer For Business
---
3D business animation idea for product showcase
---
---
3D explainer animation allows you to clearly highlight the problems being solved by a business product or service.
The visuals in this video for Aradatum, show a relatable real-world scenario where their self-powered Telecoms towers can be used. Whilst clearly and easily showing how they're installed, powered and can be used to provide further benefits. i.e. providing excess power to vehicle charging points.
The stylish environment provides visuals that capture the audience's attention whilst aligning with the company brand colours. This ensures the video sits well amongst other brand materials and looks great both on the company website, at events and in sales meetings.
Schedule a meeting with the friendly creative team at Stormy Studio today to see how we can help you produce a 3D animated explainer for your business.
---
---
---
---
---
KEY TAKEAWAYS:
• 3D animation allows you to show how a product is set up, its benefits and how it works
• Stylish environments let you show real-world use cases
• Motion graphics compliment the 3D visuals and explain with clarity
• Integrating brand colours ensures the video sits well amongst other company materials
---
A professional voiceover to drive your business animation
---
---
As you'll notice in many of the video examples above, it's very common for a business animation to require a professional voiceover to relay information clearly and provide context for the animated visuals.
Studios can typically provide a variety of artists for review to find the perfect match for your business brand, message and audience.
At Stormy Studio we work with a lot of voiceover artists to provide the perfect voice to bring a narrative to life.
As well as providing placeholder voiceovers for our projects, our Studio Creative Director, Jon Draper, is also a professional British male voiceover artist.
His non-regional (RP) accent is often selected as it balances a line between professional delivery with a little bit of character.
So whether you need a full business animation or simply a voiceover for your company or creative agency project please get in touch.
---
---
---
---
KEY TAKEAWAYS:
• Voiceovers are used in the majority of business animation projects
• A clear, professional voiceover adds quality and clarity
• Finding the right tone, style of delivery and accent is key
• Jon Draper is a British Male Voiceover artist
---
Contact - British Male Voiceover
---
---
Advantages of business animation?
---
Let's start by getting a clear indication of who your audience will be and why they are watching.
What are the general demographics of your viewers?

Will they be of varying age groups?

Will some viewers be more knowledgeable than others about your subject?

Are viewers captive, or will you need to harness attention?

Will the video be watched in a professional situation?

Are the viewers other businesses, or are you targeting consumers?
Possibly the most crucial aspect of making any corporate video is to consider your audience. Be clear not only in your mind but also in detailing your audience to your producer.
Creating appeal is the key to speaking to your audience directly. Point out if you want your video to target customers or other businesses and what type of message you want to convey. There's no such thing as 'too much' info about your audience so a thorough appraisal is worth it in the interim.
---
---
---
What is your animation project proposal objective?
---
From a marketing perspective, your main objective will be to attract new clients or customers. However, it may be that you want to launch a new campaign with existing clients or to renew their interest in you perhaps.
Explainer or educational videos could be considered in a slightly different way as they may be more complex and longer in length. Your aim here may be to deliver the instructions as clearly and concisely as possible without making the video too lengthy or mundane.
Whatever its purpose, your video will need to be memorable and engaging.
---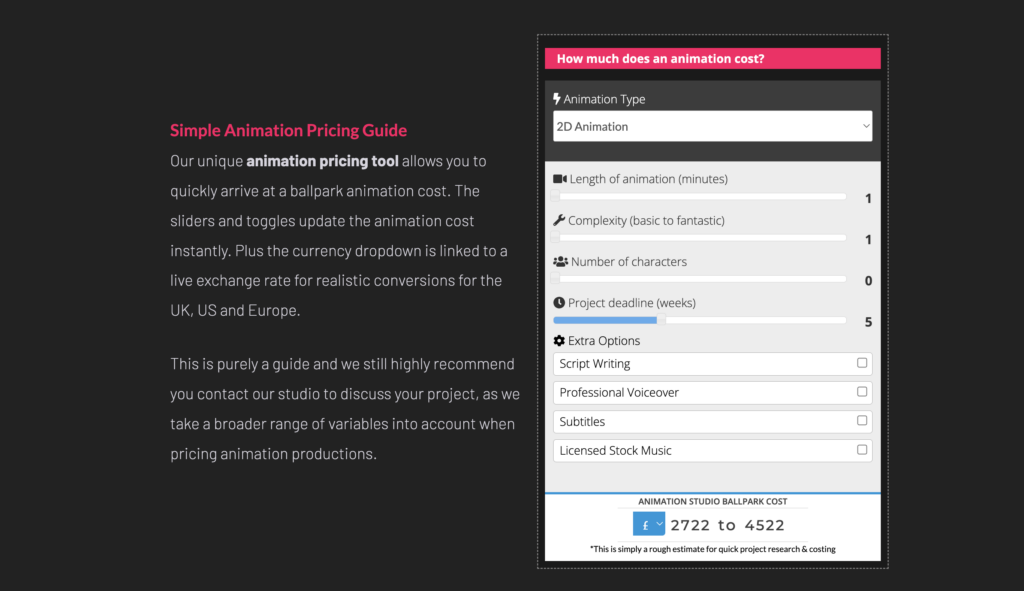 Animation Pricing
A quick guide to animation pricing
How much does animation cost?
---
Full Production Packages
Fixed price animation packages
---
Commisioning Animation
Simple tips to commission animatiion
---